Ever since Brandon chose that blue paint for our new bedroom, I can't resist the alluring idea of a new quilt for our bed. A
white
quilt!
I know, I know, it's terribly impractical. But, we already have practical gray curtains, a gray loveseat and gray rug. Sure our
gray
duvet cover, which
I made
years ago, fits right in...but come on? This is Stitched in COLOR. I need a little variety in my life. (My man, on the other hand, would prefer to cover our house in black, gray and wood.)
I wasn't sure what direction I'd go with this white quilt concept until I saw the paint on the walls. The shade is slightly traditional and reminds me vaguely of Liberty of London fabrics. It seems English, perhaps? Not that I would know!
Now I can't make a quilt for our bed out of delightful English florals. He would die. But, I could sneak in a touch of Liberty so long as it was floating on a veritable sea of white. Hmm... lots of white/neutrals and a bit of color? Ah, yes, that quilt already exists!
photo from Savor Each Stitch
When Carolyn Friedlander's book
Savor Each Stitch
released, this quilt absolutely stole my heart. It's the color play, yes, but also the amazing texture of her quilting. My heart and apparently hundreds more! Carolyn's Aerial Grove design has been a big hit, so you may have seen it popping up around blogland. Carolyn has actually made another version with gray neutrals and Liberty of London fabrics, which you can spy
on her blog
.
Yesterday I pulled out my Liberty of London and voiles to tease out a rainbow. Since you only need a 2.5" square for the rainbow applique pieces, I thought I might have near enough with all my scraps. Um, no. The pattern calls for 80 applique fabrics for a queen sized quilt. I have about.... 30. Time to go shopping!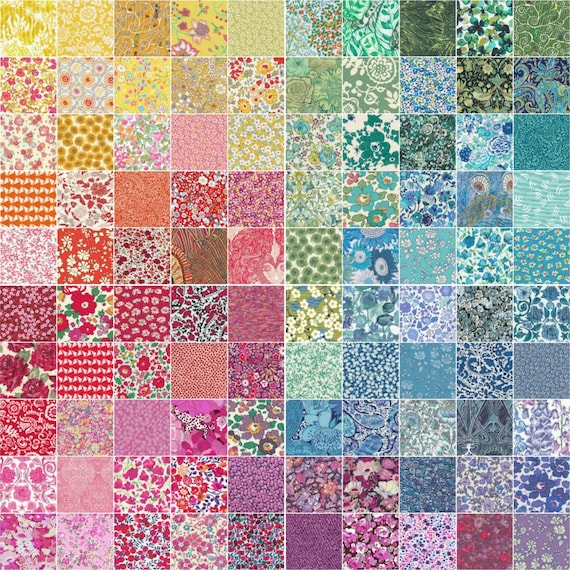 You can find Liberty of London in several U.S. shops, including
Westwood Acres
, but if you want to pinch those pennies and buy an assortment of 2.5" charm squares, you might end up purchasing straight from England. I have
100 little squares of lovely
on the way from Norwich!
For my "background" neutrals, I plan to use lots of solid white and pale gray, plus some low volume whites and grays. Most of my low volumes are cream or black/white, so I also had to do some special looking for backgrounds. I hope what I've ordered fits the bill!
Now that I've thought this through, I'm eager to get started on the applique rainbow. This whole waiting for fabric thing is not how I usually roll, since mostly I work from stash. So... I may have started a new scrap quilt today.
Oops.