Ok, friends, back to the hearts... After the
rainbow log cabin
, my next thought was to make a scrappy quilt of simple patchwork squares with some heart blocks mixed in. The heart blocks are already 7" finished, so that set the size of my patchwork squares. I started by pulling multi-colored print scraps that coordinated roughly with the candy colored hearts and added complimentary fabrics from there.
And, you know, I had a hard time with this one too. The colors kept feeling so pastel and muted until I added the saturated
XOXO print in Dandelion yellow
. After that I figured to add the dark teal multi print, which deepened my range of values. Now the mix of colors feels balanced enough, even if it does have a slightly "country" feel. I've had that butterfly Momo print
forever
, so it was great to use it on a quilt that shows it well.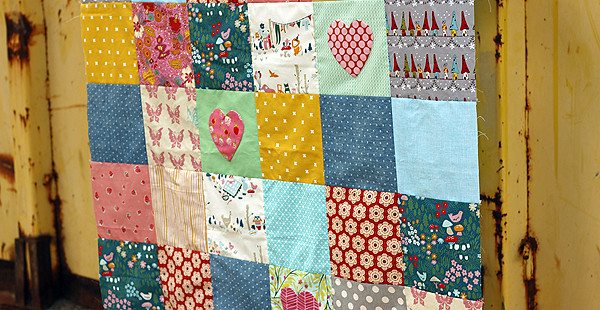 For my next quilts in the heart series, I opted to simplify. Keep in mind that these quilts are to be tucked around the mattress of an open NICU bed in place of a sheet and mattress protector. The nurses did this when Eleni was in NICU, to brighten up the place, and changed out the quilts every few days. So, the outer 5" or so is tucked around and under the mattress, out of sight.
I thought it would be nice to make a few quilts which really show off a pretty print. In this design, the print covers the whole mattress top with the hearts set just to the side of baby. A double solid border frames the print, while echoing a color from the heart squares. I used Konas
pistachio
and
biscuit
on the one quilt and Konas
sage
and
silver
on the other.
There are often twins in the NICU. Wouldn't these two quilts be a nice set for twin girl beds? I bet the nurses will get a kick out of that too.
I've made six quilt tops so far from Eleni's hearts! I have plans for one more, and then it'll be time to finish them up. To be honest, the idea of seven quilt tops to finish all at once is making me nervous. But I'm telling myself that they're all so small and for a good cause... Maybe I'll try something new, quilting-wise? Or maybe I'll let myself do whatever feels easiest! Either way, finished quilts are always a win.