It's definitely an act of trust to send off a quilt top to be quilted. All that time, all those careful decisions about color and pattern, all that money just in the fabric - a quilt top represents a great deal of personal investment.
When I was new to quilting, my mother-in-law (who sews amazing Halloween costumes) asked if I would quilt my own quilts, or send them out. She had been shocked to discover that some quilters don't "quilt" their work. I guess I was a little confused to hear that too, but now I get it. In fact, I think most of us who have made a few quilts understand the attraction. Some quilts are just too special, one doubts they can do justice to the quilt top. Some quilts are just too big, one's home machine is not roomy enough to accommodate. Sometimes we just want to be free to frolic in patchwork, patchwork and
more patchwork
, grateful to pass on finishing to another.
The first quilt I sent out to be quilted was queen sized. When my mom explained she'd like the
Sparklers quilt
finished with
dense
straight line quilting, you all know I groaned.
Groaned
. I'd seen Emily Sessions of
Emerson Quilting
's work on another blog, so I got in touch and took the leap. Since then I've never looked back. Emily's quilted a few works for me. She's always easy to communicate with, friendly and delivers on time. And since I'm such a happy customer I figured she'd be a perfect sponsor for this space!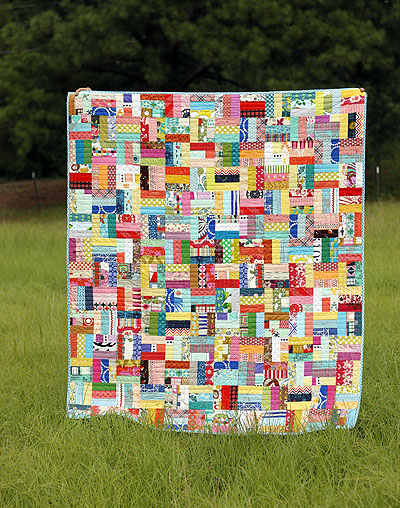 This time I sent Emily an average-sized quilt, my Rail Fence scrappy quilt for Patchwork from Scrap. I chose another straight-lined pattern and one of Emily's signature styles - concentric rectangles. The quilt is covered all over with concentric rectangles that melt into one another to form a consistent texture.
After receiving my quilt back from Emily, all it needed was a quick trim around the edges and some
zigzag binding
. The quilt is sewn down to the batting about 1/8" from the raw edge, so all the edge seams are protected and it's very easy to handle.
From the front you mainly see straight lines, vertical and horizontal, but not crossing over each other. It like that the quilting does not distract at all from the patchwork, but subtle compliments it from the front.
Looking at the back, the eye easily discerns the concentric rectangle pattern, adding interest to a much simpler side of the quilt.
An average throw sized quilt, like this, with an all-over pattern costs $75 to quilt, which is the minimum price at Emerson Quilting. You could also opt for custom quilting with different patterns on different parts of the quilt or changes in thread color. To calculate pricing see her
Pricing page
. For examples of quilting on diverse quilts, see her
main blog feed
. But keep in mind that Emily is game to try new styles, so don't be shy to talk to her about your ideas! She does everything on her longarm, but free-hand (no computer to guide the machine).
I'm looking forward to sending more of my quilts off to Emily in the years to come. I hope you'll give
Emerson Quilting
a try if you need help getting some quilts finished and ready to use. Every returned quilt is a little quilting miracle. She does the hard work of basting and quilting, and you get to celebrate another completed project... and maybe, just maybe start something new!!!
p.s.
Rail Fence
is listed today in my Etsy Shop!