Staying at Stephanie's gave my quilting mojo a giant pick-me-up. I think it was her awesome fabric stash combined with her considerable works-in-progress. I'm not one that likes to have a lot of things going at once, but it's quite fun to take a tour in someone else's progress!
Now, if you're like me, when your quilting mojo is flowing you look around and see possibilities everywhere.
I want to make that and that and that AND that!
You start to dream about fabrics and colors. Soon your mental "next up" list is a mile long, but you're so in love with every project you can't imagine eliminating, let along forgetting, any one of them.
And then life.
Sometimes when I finish a current project and am ready to start something new, I can't actually remember what I wanted to make! Or, I have this vague idea, "herringbone quilt," but I don't remember what I loved about it. Was it the colors? The fabrics? Was there someone special I had in mind?
Right now I'm away for a short series of ABM lessons with baby. When I get back it's going to be time to baste and quilt "Plus, Plus" and finish up a mini quilt in progress. After all that, I really should knock out a camper gift or two and then....
then
I could start a new quilt. So let's preserve the mojo, shall we?
1.
Scrappy Bourbon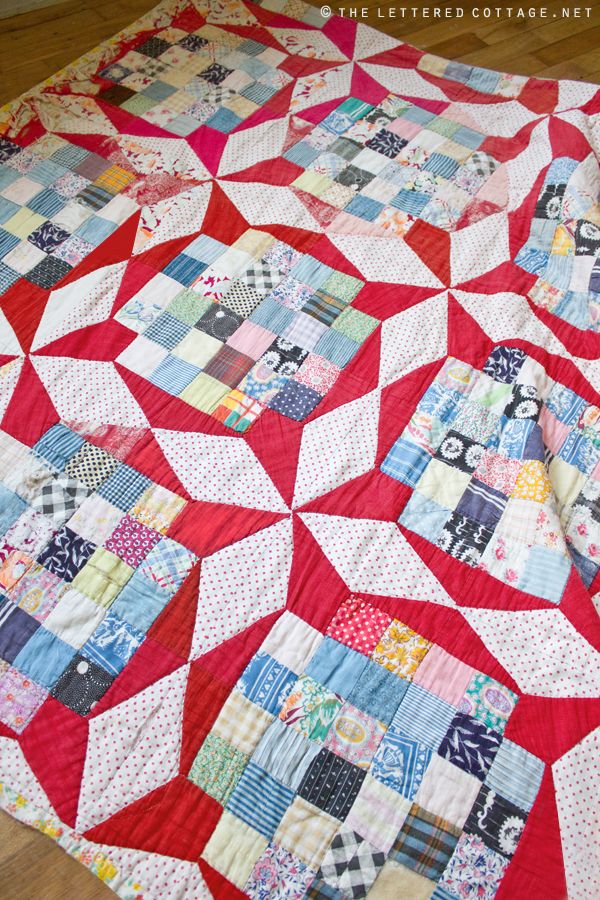 I came across this photo originally from
The Lettered Cottage
blog. She reports it's a vintage quilt. Connecting Threads has the paper pieced pattern available for instant download. It's called
Bourbon Street
. I really love the red in this version, so I'm tempted to pretty much copy it. Happy scrappy.
2.
Herringbone Throw
Stephanie is binding a beautiful herringbone quilt made of mostly Anna Maria Horner fabrics. I've long wanted to make a throw-sized version of the above quilt, which I made with Love circle through do. Good Stitches. And I could update my
herringbone block tutorial
while I'm at it. Right now I'm waiting to be struck with the right inspiration fabric to set my color scheme.
3.
Facing East
Last year when Megan was hosting the
Facing East quilt along
I so wanted to participate, but couldn't because I was busy producing Angled class. It's not that I have a ton more time now (hahahahaha!). Still, this quilt has lingered in my mind. I think I know who I'd gift it to now, if I made it, which creates a new sort of motivation. Maybe a few blocks at a time...
Ok, well I can come back to this now when I'm all clear for new quilts. Thanks for humoring me. I bet if your mojo is working you have quite a wish list of next makes too. Do share! Wonder how many of your ideas I'll have to add to my list?