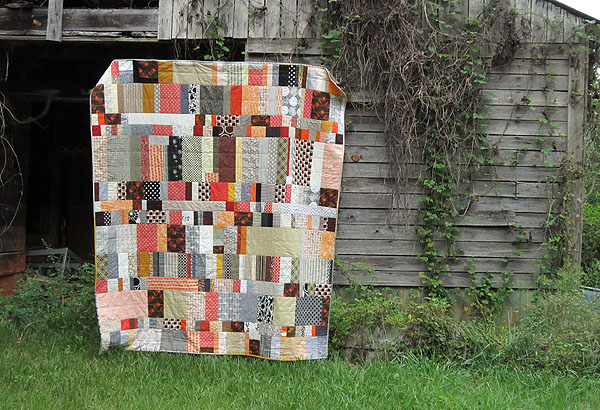 At last! Finished and photographed on a deliciously cool, autumn day. This patchwork quilt was simple to piece and so very scrap-friendly. I definitely enjoy quilts that go together in rows. Seems to make the planning easier.
It's a full-size quilt, for my 17-year-old nephew. And, gosh, it pretty well covers our queen bed! I made it slightly larger than the "double" quilt size on the Pink Chalk Fabrics' "Standard Quilt Sizes" chart they send with all orders. That little chart comes in handy all the time.
My quilt back is mainly Denyse Schmidt fabrics and a yard cut of Kona Coal. When I use leftover or large fabric cuts for my quilt backings, I like to plan them on the floor before piecing. First I lay out the quilt top, then cover it with quilt backing fabric possibilities. With the quilt top guiding the size, I rearrange and add/subtract fabrics until I can see that the backing will finish larger than the quilt top, once sewn together.
I usually aim for a back that uses up some fabrics I don't need anymore while feeling interesting and somewhat balanced. I rarely do anything too fiddly since by this time I want to move on to the next project. With a bed quilt, you hardly ever see the back anyway!
For a quick finish (remember my weekend?) I zigzag quilted in straight lines straddling each row seam, plus a few extra lines of quilting in-between rows for even spacing. Zigzags are such a strong and forgiving stitch for quilting. Plus, it matches
my binding finish
!
That's a wrap, super-scrappy binding and all! One more quilt to go, this time for my little niece, and then I'll send them both off for early October birthdays. Yay!