Wanna see my biggest quilt yet?
Ta da! I'm so happy to finally have the pictures to prove that it's finished and the opportunity to bring it to its new home tomorrow.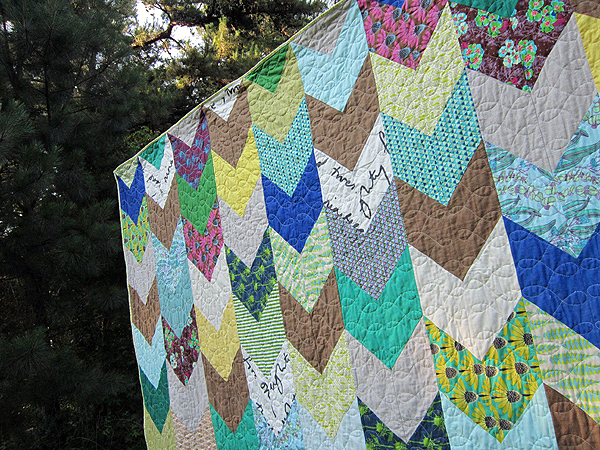 This king sized beast was actually more trouble to piece than to quilt. It's composed of large diamonds that fit together to make the chevron motif, joining as long rows. Because I used a fair amount of linen, I had to reinforce many, many seams with zigzag stitch to guard against unraveling. I really, really, really hope it holds up! I'll ask my friend, for whom it was made, to tell me if it doesn't. Gulp.
The colors I used were inspired by my favorite picks from Anna Maria Horner's current collection, Pretty Potent for
Freespirit Fabrics
, a group of fabrics inspired by healing herbs. My friend Liz is an avid gardener and actually the author of the vegetable garden currently thriving on our land. Our families are sharing the harvest, which today included romaine lettuce, squash, zucchini, swiss chard, green beans and cucumber. It's fabulous! Anyways, making something for her that was plant-inspired felt right.
Liz loves green and brown, so I brought in more of those colors through solids and a few basic prints. Solids used include: Konas Willow, Kale, Sage, Ocean, Leprechaun, Oyster, Aqua and Canary, plus Essex Yarn Dyed Flax linen. My favorite fabric "spice" is that white and black oversized text print from Ikea. It adds a little something unexpected.
For the quilt back, I used a flat king sized sheet. It's a thrifted sheet, but very high quality. I've not used a sheet in the longest time and doing so felt distinctly lighter and thinner. I think a sheet is a great choice for backing a summer weight quilt. Perhaps its lightness is what made the quilting feel so manageable! Economical too, of course.
As I type it's hanging on the line, drying after its official all-done-wash. Hurray!
::Fabric Notes::
Pretty Potent is in stock now at
Pink Chalk Fabric
,
Sew Love Fabrics
,
Intrepid Thread
,
Fabricworm
and
Sew Modern
. Plus in Canada at
Fabric Spot
and
Mad About Patchwork
.
You can find Kona Cottons at most of my sponsors, including
Pink Chalk Fabric
and
Sew Modern
.