Goodness, it's time to choose our holiday challengers. I feel like a kid burying her hand in a bowl of candy. I don't know quite what I'll pull out, but I do know it'll be good!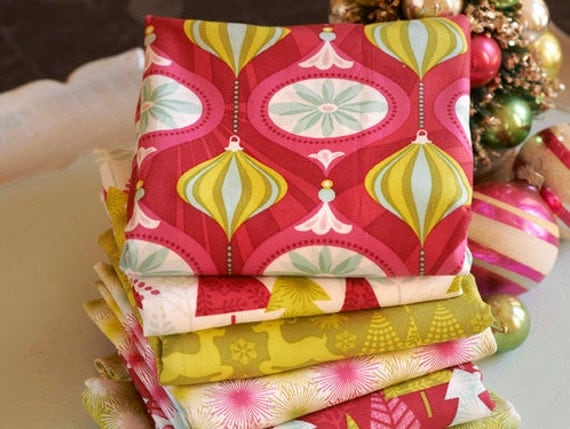 Thanks for
sharing your ideas
for our Sew Love Fabrics
Hip Holiday bundles
. Of all the challenges I've run so far, this one was definitely the hardest to narrow down to 4 challengers. Of course I want to see you make trees and stockings and advent calendars and giant letters for Santa. How could I not? Gosh there are a lot of fun holiday sewing projects, aren't there?
Do remember that there's a fair bit of luck to which ideas get chosen. As in, do I feel like table runners today? My only hard and fast rule is to include both contestants I know (as in, I've seen them around the vastness that is blogland) and contestants whose spaces I had the pleasure of visiting for the first time through this process. Without further ado, our challengers are...
Sherri of
Rebecca Mae Designs
who promised, "to make some holiday houses with this fabric! A little santa's village :) I'm in with the big guy by the way... Just saying!" Houses will be such fun, don't you think?
Mindy, on Flickr as
Pinspots
, is fairly bursting with intriguing ideas: "I immediately thought of re-usable gift package embellishments, since present wrapping is one of my all-time favorite things... I'm thinking a scrappy strip, like a binding, that goes around a gift like a long ribbon. A 6" wide strip that's shirred with elastic thread so it would fit around different sized gift boxes. 2D bows that lay flat on a package. 3D bows that are attached to pretty elastic that can easily slip over gifts... Embroidered, patchwork gift tags inscribed to my kids so I can use them year after year. I'd use the print with the big ornaments and trees by fussy cutting them and then appliqueing them onto felt to make present toppers- maybe use some beads and sequins, like my grandma did in the 60's. I'd somehow incorporate some pom pom trim because the fabric screams for that. Heck, I could even MAKE pom poms from this fabric, maybe with the selvedges. No waste!"
Yes, Mindy, I need to see this! I have a feeling my package are going to be prettier and more reusable this year!
Michelle of
City House Studio
, with whose project idea I have an admitted bias. "While I like to sew anything and everything, my favorite project is always a quilt. I will plan to add some low volume prints, and some red and green solids to make a throw sized Penny Patch quilt! I have loved following along your instructions for the Penny Patch quilt -- but hadn't chosen fabrics yet...I am planning to make the quilt for my Aunt and Uncle as a Christmas gift. They have been an amazing source of love and support for me since my husband and I moved to Minneapolis 15 years ago... They have helped me out in countless ways, many, many times. And my children absolutely love them!"
And, Deb or
Trio Stitch Studio
who exclaimed, "Oh good golly, Rachel! I have had my eye on these for a tree skirt...and I JUST found the pattern I want to use. Serendipity?" Yes, I think so, Deb! Let's make it happen.
And if you're thinking, "she totally should have picked me", you're probably right! I'll try to pick you next time. A great big thanks to
Sew Love Fabrics
for this fun challenge. And, if the
Hip Holiday bundle
had your name written all over it, do visit Sew Love Fabrics to get what's meant to be yours.
Have fun, challengers! We can't wait to see what you cook up!!!