When I think "scrap quilt" the very first thing that comes to mind is a classic postage stamp quilt. A postage stamp quilt is one made entirely of small squares, maybe not quite as small as postage stamps, but close! This is a quilt style I've yet to make but always, always been drawn to. Today for our
Scrap Attack Quilt Along
I spoke with Tammy at
{Karamat}
), who made three postage stamp quilts last year alone:
"
I really love simple patchwork pieces that let the designs of the fabrics stand out. I think that's why I'm drawn to Postage Stamp and charm quilts.
All of my Postage Stamp quilts so far have used 2.5" cut squares. I love this size! Left over Jelly Roll strips and Charm squares are easily cut up, and I can usually get at least 1 cut from any other scrap I've got... An efficient use of my scraps.
"
Tammy has experimented with strip piecing, where she sews long 2.5" jelly roll strips together, side by side, and then slices them up to create 2.5" patchwork strips. Strip piecing is a fast way to create a postage stamp quilt, but it can be quite difficult to keep all the points matched up when sewing this way. She also did a postage stamp quilt with
do. Good Stitches
in which each member sent in (2) 12.5" square blocks. I love how that one came out:
However, time-saving methods aren't Tammy's favorite way of making these quilts! "
By far my favorite piecing method has been to piece the individual squares together as I did in the Scrap Vomit quilt. And probably 75% of this quilt was sewn together using the pieces as leaders and enders while working on other projects. Without even having to think about it a whole quilt grew while I was working on other things!
"
I think Tammy's got to be pretty smart to sew this type of postage stamp quilt, which takes a good deal of planning, as leaders and enders while working on other projects. Isn't her quilt lovely!
I'm not sure if small squares placed deliberately to make a pattern are officially considered "postage stamp" quilts, but they're at least in the same family. Another quilter I admire who does this kind of work is Megan at
Philistine Made
. Here's a beauty over three years in the making that Megan finished just lately during the Scrap Attack Quilt Along:
And here's her "Scrappy Trip Around the World" quilt, with the radiating design signature of the trip around the world style:
Inspired much? Me too!
I have two resources for you today that can make these quilts easier! The first is a tutorial I've used before with great results by Bonnie Hunter for scrappy trip around the world blocks.
Bonnie's tutorial
works from strips to make faster work of this pretty style.
The second resource is a collection of posts Elizabeth Hartman has put up today at her blog,
Oh, Fransson
! Elizabeth has updated her method of using fusible interfacing to sew a true postage stamp style block with precision. There's an
introduction post
, a "
making the block
" post and one with more details on
materials and supplies
. Thanks, Elizabeth, for posting this today! This tutorial is one I'd really like to try, first on a small scale to see how I like it. Have you tried this method before?
Elizabeth's finished blocks
If you'll be starting a new scrappy quilt, remember that we'll be celebrating scrap quilting this March at the Festival of Scrappiness, March 26-28. Our festival is a link party that will post on the 26th here at Stitched in Color. Any quilt top finished in 2012 and made mostly from scraps is welcome to take part. There were some questions last week, so I want to clarify that quilts of any size are welcome, even minis. Your quilt does not have to be finished (quilted and bound), but the quilt top does need to be complete with a photo you can share. Everyone can participate, whether blogger or not! Many of the 20 festival prizes can be shipped internationally, though a few are available for US shipment only. Yes, you can enter multiple quilts. But, remember, they have to have been finished sometime January 1 - March 28, 2012.
Prizes
Some Festival of Scrappiness prizes were
announced last week
. Here are a few more!
Prizes ship worldwide, unless otherwise noted.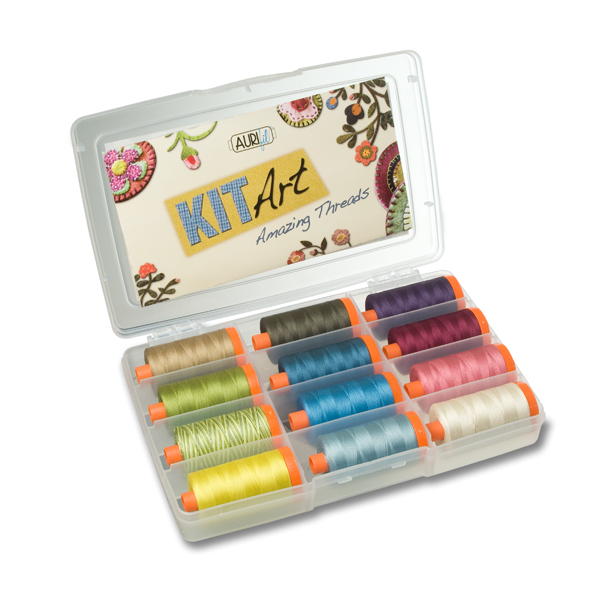 From
Aurifil
, a set of 12 extra large spools of their cotton 50wt threads ($120 value). Each spool has over 1400 yards of the highest quality machine sewing thread.
From
Marmalade Fabrics
, Amy Butler's
Lark Dreamer fat quarter set
(12 pieces). Wouldn't it make a beautiful (non-scrappy) quilt!
From Bloomerie, a trio of delightful Moda charm packs:
Circa 1934, A Walk in the Woods and Reunion. Shipping to U.S. Residents only. Psst...
Kona's on sale
for $4.50 a yard while supplies last!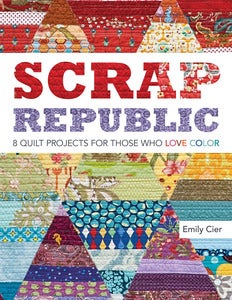 From Emily Cier of
Carolina Patchworks
, a signed copy of
Scrap Republic
. Because you can never have enough scrappy inspiration!
From Canadian-based
Mad About Patchwork
, one yard of a classic Kaffe Fassett print along with 12 fat quarters coordinating
shot cotton solids
. Multiple thread colors give these yarn-dyed cottons a lovely "shot" of color.
Keep on working on those quilts people! Combined with last week, these are only half of the prizes! Thanks to all these lovely companies for being a part of our quilty community.