I'm going to admit right here and right now that I feel a stashing coming on. Now I know that some of you are hoping to receive fabric for Christmas, but that's not likely round these parts. I've started to feel the pinch when poking around my stash for the right orange, red, aqua and pink fabrics. Ok, pretty much everything but green and gray. Case in point, these are
all
of my remaining orange fabrics!
Liam's flying geese curtains are claiming just about every scrap I had of non-girly pure oranges. I've been using up text fabrics left and right and hardly have any stripes left in my entire stash!!! (Breathe, just breathe, Rachel).
So, this is a good thing. I've been careful this year not to overspend on fabric, and to take a real critical eye to measure what I want against what I already have. After a year packed with sewing, I actually have less fabric that I did when we got started (not counting solids, which I definitely increased since January last). However, I wouldn't say I have the perfect balanced system or something. No, I've been thinking it over and have noticed a "trouble spot" in my growing tower of multicolored fabrics...
Almost all of my fabrics are purchased "for love", not with a particular project in mind. This suits me well since I work best when I can grab inspiring fabrics with the idea fresh in mind and start sewing right away. But, these multicolored prints just don't lend themselves to the visions I usually create.
Now, don't get me wrong, I love them! Here are some of the vibrant, rainbow-infused prints. They whipster to me of childish projects to come. But, that's the thing - I have to
design
a project around these prints to use them. And I will...eventually.
These are some of the richer multicolored prints in my stash. Pretty! I hate to see lovely fabric sitting around not being used. But, I suppose the longest I've had any of these is one year, and they have been used some, just not used up. Do you find yourself accumulating certain types of fabrics that you like but don't easily use?
What I so often use are "pure" color prints that pair a color with neutrals like white, gray or brown. These are all of my pure pinks. Noticeably lacking are some bright pinks (add that to the shopping list). My personal favorite pure prints are tone on tone without too much white. It gives a more saturated look to the finished project. Over time I've seen that I avoid white background prints. Nothing against them, of course, that's just my aesthetic. Still, I'm really crushing on the Ruby Sundae Stripe.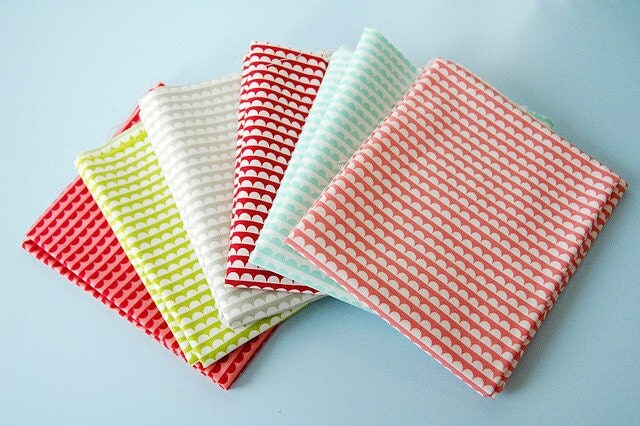 It's a cross between a stripe and a dot! Picture and fabric bundle by
Pink Castle Fabrics
. The Sundae Stripe is also available at
Fat Quarter Shop
and the aqua only at
Fabric Envy
.
In my pink stack I have many prints that are "pink + orange" or "pink +red". Here are the "yellow + accent" prints currently in my stash. These colored prints with accents are slightly less handy than pure color prints. However when the right project comes along, the "color + accent" prints make my heart sing because they really nail down the intended color scheme. I want to make an effort to buy more of these prints, particularly those that I don't have like "red + aqua", "aqua + green", "orange + red" and "orange + blue". Here are a few I'm considering:
Bird Lattice from Meet the Gang




Ovals from Calypso
Dot from So Sophie
I found the three above at
Hawthorne Threads
.
These are all of my purples. I thought I needed to buy more purples in general, but now I see that's not so. I'll have to reevaluate my shopping cart! I'd still like to have on hand a pure lavender print and more of a "crayon" purple. Both are hard to find in modern designer fabrics.
So, after going through all that, I'm sure I'll make a sensible purchase, right?
Riiiight
...
Honestly, I'm currently crushing on this newly released Woodland by Natalie Lymer, available at
Sew Modern
,
Hawthorne Threads
and
Fat Quarter Shop
. I'm not sure how "handy" they would be, but oh-so-cute for sure!
This is when I envy those who make baby quilts to sell. The never-ended need for new cute, even multicolored fabric sounds quite nice! Yes, the grass is always greener, isn't it? Well, I'll just buy some Woodland for love and hope that it finds it's time to shine soon.
Yes, a stashing is a-coming. Wishing you all much fabricy goodness in your holiday surprises!
p.s. I was just notified that
JAQS fabrics
is closing. Of course we wish Qiu the best! Help her wrap up loose ends by checking out her offerings. The entire store is 20% off with code "JAQSFabricClose".