Would you like another helping of inspiration? Today
Emma Lamb
brings us three lovely mosaics of handcrafted goodness in Etsy Finds for autumn. It's a feast for your eyes that puts a sweet, warm feeling in the tummy... Well, it does for me. I so appreciate the unique, one-of-a-kind treasures we can share the world over thanks to venues like Etsy. Emma and I hope that you'll feel inspired to feather your nest with your signature handmade creations this November! And that you'll take a moment to share them here through
Celebrate Color
.
Speaking of sharing, I consulted with the lovely ladies who are my partners in Celebrate Color, and we all agreed to tweak the entry rules just a bit this November. Thanks to your feedback via the survey (and feedback is always so welcome!) we've decided to enable those who don't have a blog to enter their creations via a Flickr photostream. You'll need to upload a NEW picture to your photostream that includes a link to
Celebrate Color
in the photo description. And then proceed to add that picture to the appropriate photo entry pool, found on our main
Celebrate Color page
. The rules are now updated and still super-complete at
How to Enter
(please check it out). And, remember, you can enter your handmade projects made after September 1, 2011! So, go ahead and join in! I'll be announcing the November prizes later today.
Exciting stuff, but I don't want you to miss out on
miss Emma's post
. So, in the way of a teaser... here is a photo of one of my favorite etsy finds she shared: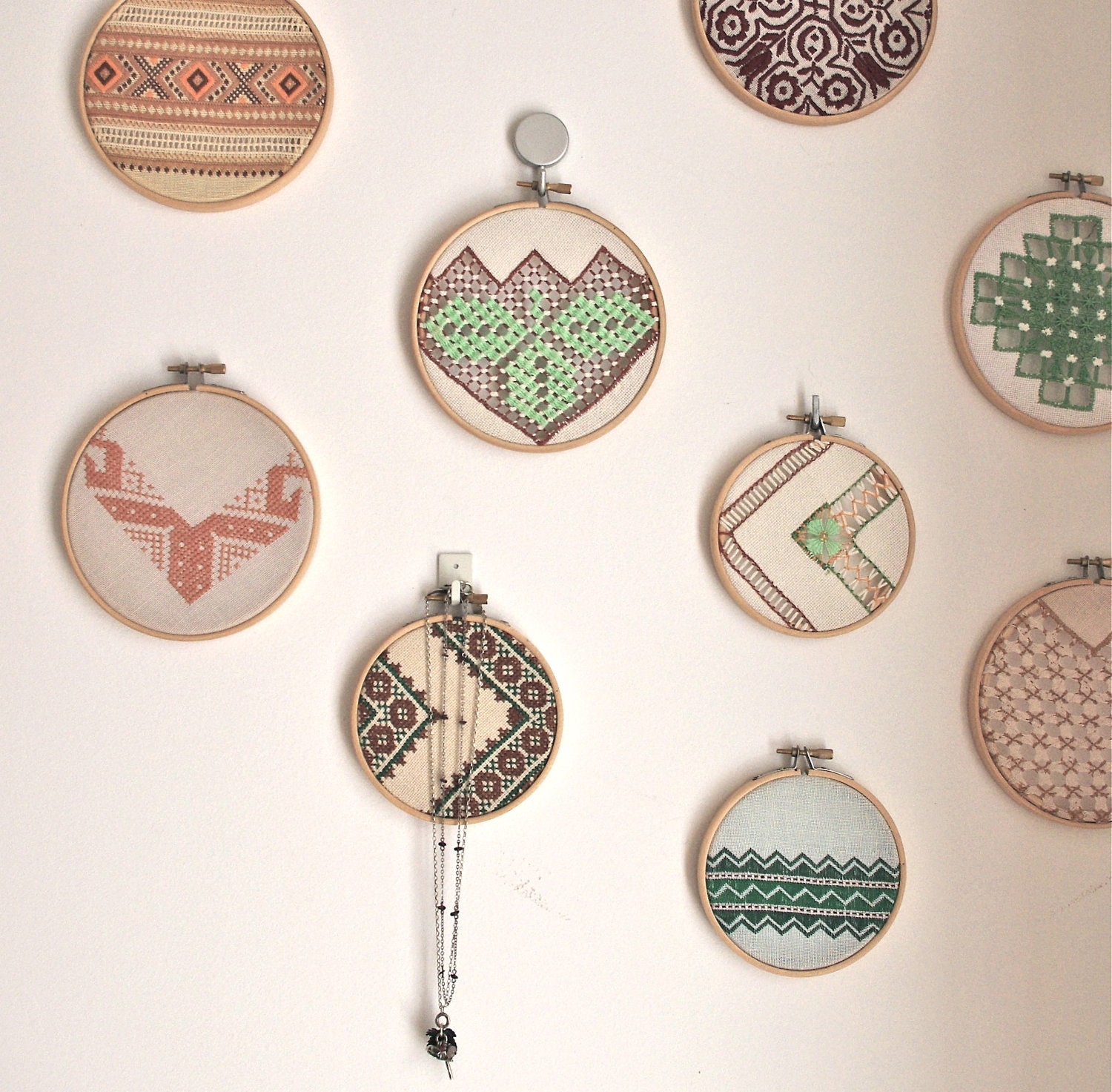 These needlepoint wall hoops by
Bylina Studio
are all made from vintage hand embroidered tablecloths. The concept reminds me of Anna Maria's new Loulouthi needleworks fabrics, but repurposed and upcycled. Lovely idea! Do you think the fabric fairy will bring me some
Crossing Paths in Dapper
?