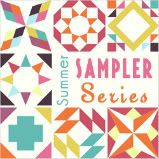 Have you heard about the
Summer Sampler Series Quilt Along
? It just started yesterday and is being hosted by three bloggers I regularly read:
Freshly Pieced
,
Fresh Lemons Modern Quilts
and
Swim, Bike, Quilt
. I'm joining in because we're only making 12 blocks, there's no need to buy a book and I can donate the finished quilt to participate in
100 Quilts for Kids
. I believe that's a win-win-win, right Dwight?
If you've been following Stitched in Color much, you may have gathered that I lean towards simple piecing. Yep, I do! I thought making this sampler quilt would be a little taste of the other side. Oh, and we're going to do some paper piecing which I so want to learn. Yeah! Here are all 12 blocks on the menu:
I kind of see myself skipping 1 or 2 if they just don't feel right at the time. In that case, I'll just make another traditional block or repeat a favorite. Because I'm in control. Muahahahaa.
If you're on the fence about joining, totally steer clear of your fabric stash. My mind went from maybe to "yes" when I started playing. I started with the berry/cerise prints on top. Somehow even though Kona Cerise is one of my very favorite, always-running-low fabrics I have hardly even cut into my similar-toned prints. Time to use them! And I always love that color with golden mustard yellow. I added the black for the "cool" factor and because it's a bit unusual for me. And then there they were. I knew it was meant to be.
This is "Star of Virginia", the first block which
Kate taught
yesterday. Look, look, I finally used some tape measure fabric! Score!!! Sorry, but this is one I've seen around f.o.r.e.v.e.r. and always admired. It's almost "word" fabric, right Penny? The star points are Mendocino and
Modern Meadow
by Joel Dewberry. With a scribble background from Robert Kaufman. Check out how I kept my scribbles flowing in the same direction? This was one of those rare times where I planned it "right" and it actually worked out right.
It was a good morning.
Oh, speaking of good vs. bad mornings, thank you from the bottom of my heart for your
help
on Saturday. Your support and really good advice is
exactly
what I needed. I'm going to give the whole mock-up another go, this time using my actual fabric and making all sorts of adjustments that you recommended. Thanks to you, I have a whole, huge list of links and ideas for darting up these "assets" ;). And, I'm pretty darn sure that it's going to work out because yesterday I promised to write an article all about darts by September for a friend. And that's my personal guarantee to myself that I. will. conquer. the. dart.
Thanks!!!