Quiltstory
is hosting a Block Party contest, and today is the very last day to enter! I am not one to turn down the chance at a fabric prize, so here we go.
This block is my favorite block ever, and quite fitting for the "creative" category. I made it for
Ara Jane's
do. Good Stitches quilt - a forest of trees on white. My Mosaic Tree is something I enjoy recreating, so far as cards. I definitely not done with it yet....
Since you all liked it so much, I'm entering this block into the "traditional" category. To me, the colors and design are quite traditional - small piecing to create an overall repeated design. I wonder if they'll like it? It was made for
Twin Fiber's
do. Good Stitches quilt.
And, while I'm at it, I may as well enter a block into the "modern" category. I had trouble choosing one that seemed "modern" enough. Or is everything I do modern? I don't know. I think the bold combo of purple and orange combined with the wonky log cabin design and use of solids makes this one "modern" by most counts.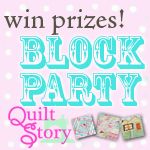 So, wish me luck! You can visit the party to see other fun blocks too. I recognize some of my bloggy friends there!